After living in the same home for 10 1/2 years, we are moving. This is such a bitter sweet time for us. We are ready to live closer to Adam's work, meet new people, and get out of our rut. At the same time we are sad to be leaving our ward, friends, the easiness of knowing where places are to shop.
We have been fixing up our new home. Cleaning showers and walls.
Taking down strange features.
Accordion doors had to go...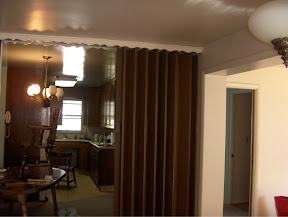 So did the fun little trim
This is what the ceiling looked like after the trim was off.
The old school lamp that Adam will not let me keep.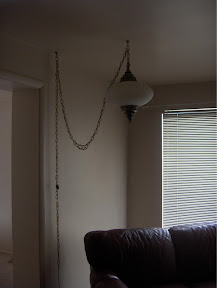 All of the old carpet had to come out.
But we found beautiful finished hardwood floors under most of it.
Not to mention the disintegrated carpet padding the had to be shoveled to get it out.
Lovely old linoleum in the dining room that is too hard to remove.
We added some wood on to make the dining room bigger.
Primed all of the walls.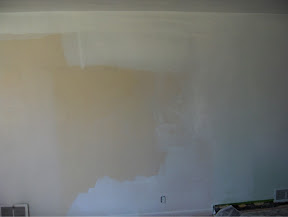 And painted all the walls and trim.
Carpeted the living room, hall, entry, and dining room.
We are now working on getting the swamp cooler fixed, putting all of the light, outlet plates, and handles back on, getting the blinds up again and packing so we can be living here by the 23 rd.
We are tired and keep working our butts off to get things done. We were so blessed to have help with all of this. THANK YOU Mom, Mariann, and Paige for helping me clean, Glenn for finding us a paint sprayer to borrow and for priming and spraying the trim, MaKell and Spencer for washing the blinds, Layne for pulling up staples and mowing the lawn, Lori and Kamry for lunch and moral support, Tara and Larry for painting and talking Adam into spraying it all, Nathan for working on the swamp cooler. You all are the best.
We can't wait for this new chapter in our life and for all of you to come see us when we move in.